These Are The Most Popular Halloween Shows And Movies In Your State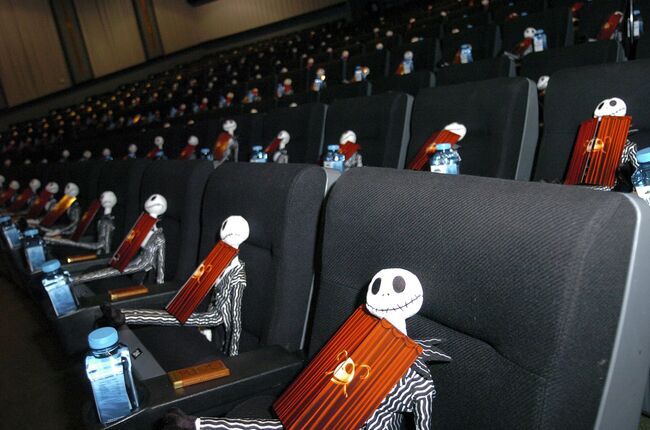 Spooky season is here! One of the reasons the month of October is so beloved is because of all the amazing shows and movies you get to watch curled up on the couch with warm apple cider and pumpkin bread. Go grab your coziest blanket and cue up Netflix because we have the most popular scary movies for kids, as well as spooky series, in your state (and every other state!) for you to watch ASAP.
Frontier figured out which scary movie for kids is the most searched in every state. Frontier tracked Google search data from the past year on children's Halloween movies rated PG or below and selected the top 18. After that, Frontier ran the search volume of these 18 movies in every state and reported only the movie with the highest volume. While these movies might be "for kids" we all know you love watching Hocus Pocus, Coco, and The Nightmare Before Christmas just as much as your kids.
Your State's Top-Searched Scary Movie for Kids:
Alabama: Beetlejuice
Alaska: FrankenWeenie
Arizona: The Nightmare before Christmas
Arkansas: Scooby-Doo
California: Coco
Colorado: Beetlejuice
Connecticut: Ghostbusters
Delaware: Monster House
District of Columbia: Hocus Pocus
Florida: The Haunted Mansion
Georgia: ET
Hawaii: Hotel Transylvania
Idaho: Coco
Illinois: Coco
Indiana: The Nightmare before Christmas
Iowa: Scooby-Doo
Kansas: Ghostbusters
Kentucky: The Nightmare before Christmas
Louisiana: The Haunted Mansion
Maine: Harry Potter and the Sorcerer's Stone
Maryland: ET
Massachusetts: ET
Michigan: Ghostbusters
Minnesota: Ghostbusters
Mississippi: Scooby-Doo
Missouri: The Nightmare before Christmas
Montana: Scooby-Doo
Nebraska: Coco
Nevada: Frankenweenie
New Hampshire: Beetlejuice
New Jersey: Ghostbusters
New Mexico: Coraline
New York: Ghostbusters
North Carolina: Scooby-Doo
North Dakota: Ghostbusters
Ohio: Coco
Oklahoma: Coco
Oregon: Halloweentown
Pennsylvania: Ghostbusters
Rhode Island: The Haunted Mansion
South Carolina: ET
South Dakota: Monster House
Tennessee: Scooby-Doo
Texas: Hotel Transylvania
Utah: The Nightmare before Christmas
Vermont: Ghostbusters
Virginia: Harry Potter and the Sorcerer's Stone
Washington: Coco
West Virginia: Hocus Pocus
Wisconsin: Ghostbusters
Wyoming: Casper
For more information, visit Frontier here.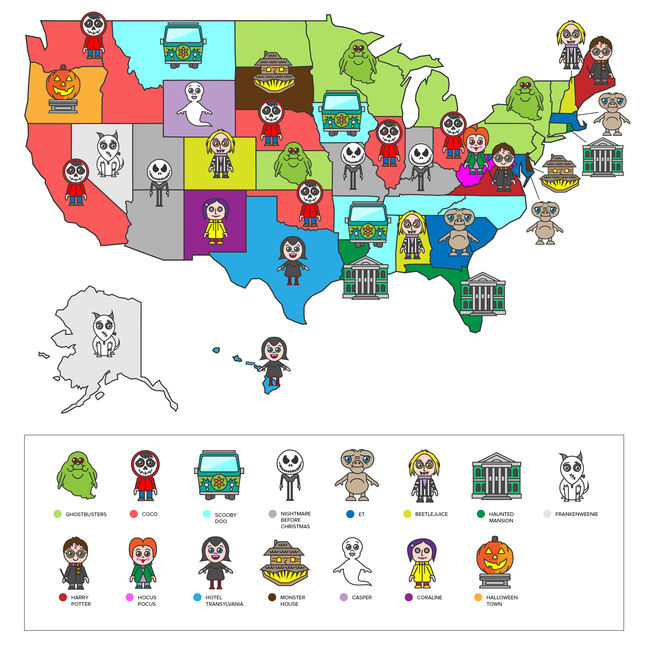 If you want something a little scarier than Hotel Transylvania, Reviews figured out the scariest shows for you to binge on Netflix. To find the spookiest shows for you, Reviews started with a list of the most popular and highly rated scary series currently available on Netflix. After searching each title on Google Trends, Reviews was able to narrow it down by state, revealing which horror series was most popular in each state. You might have to sleep with the lights on if you watch any of these shows, you've been warned.
Each State's Favorite Spooky Netflix Series
Alabama: Vampire Diaries
Alaska: Glitch
Arizona: From Dusk Till Dawn: The Series
Arkansas: From Dusk Till Dawn: The Series
California: Black Mirror
Colorado: Santa Clarita Diet
Connecticut: Black Mirror
Delaware: Lost Girl
District of Columbia: Alias Grace
Florida: The Originals
Georgia: The Originals
Hawaii: Devilman
Idaho: From Dusk Till Dawn: The Series
Illinois: Goosebumps
Indiana: Goosebumps
Iowa: Devilman
Kansas: Fear Files: Darr Ki Sacchi Tasvirein
Kentucky: Scream
Louisiana: The Originals
Maine: Dexter
Maryland: Black Mirror
Massachusetts: Black Mirror
Michigan: Dexter
Minnesota: Darknet
Mississippi: Bitten
Missouri: Kolchack the Night Stalker
Montana: Bates Motel
Nebraska: Devilman
Nevada: Helix
New Hampshire: Penny Dreadful
New Jersey: Black Mirror
New Mexico: Goosebumps
New York: Black Mirror
North Carolina: Slasher
North Dakota: Santa Clarita Diet
Ohio: Scream
Oklahoma: Van Helsing
Oregon: Crazyhead
Pennsylvania: Bates Motel
Rhode Island: Black Mirror
South Carolina: Hemlock Grove
South Dakota: Goosebumps
Tennessee: Release the Hounds
Texas: Goosebumps
Utah: Stranger Things
Vermont: Dead Set
Virginia: Release the Hounds
Washington: Twin Peaks
West Virginia: American Horror Story
Wisconsin: Darknet
Wyoming: Being Human
For more information, visit Reviews here.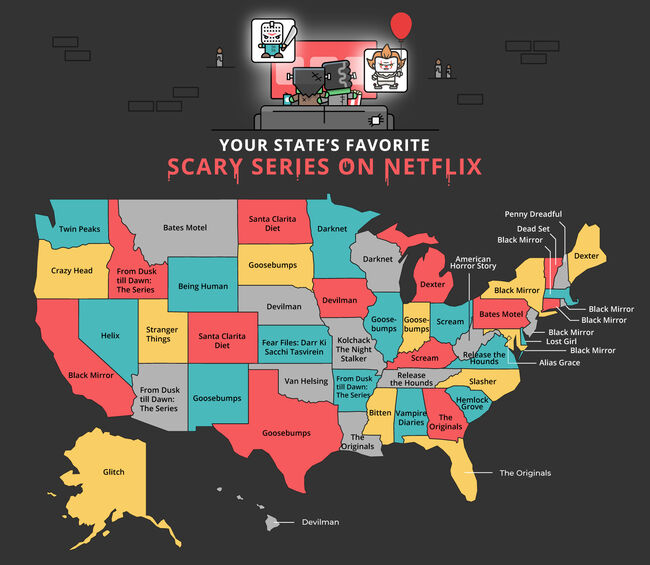 Photo: Getty / Frontier / Reviews