Thomas Rhett Sends Well Wishes To Couple Who Got Engaged At His Concert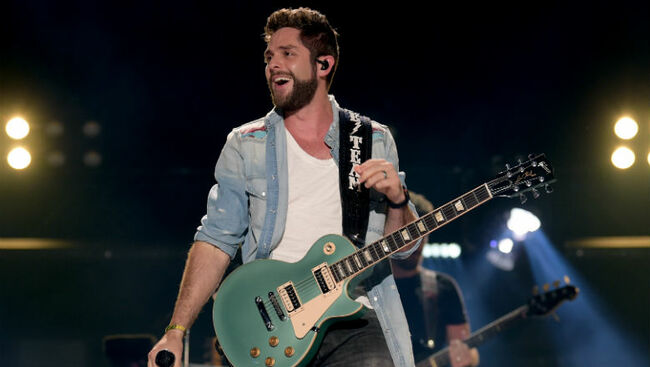 Thomas Rhett is all about spreading the love after the country titan took to Instagram on Saturday (October 6) to share footage of two young lovebirds getting engaged during his performance of "Sweetheart" at his Fort Wayne concert.
"Had to share this video from last night in Fort Wayne. Congrats to these two for getting engaged during sweetheart," the chart-topper captioned the footage of fans Taylor and Mattison, who bought their tickets in February. Still, the decision to propose didn't actually come to Taylor's mind until May. "We were walking through the security checkpoint," he recalled of the set-up in an interview with local news station WPTA21. "The [security guards] obviously had to pull out my ring and everything. So I made sure she went to another area. I was really nervous. She didn't end up finding out or anything, even though the beeper went off when I walked through it with the big bulge and ring in my pocket."
On the other hand, Matti said she was "very shocked and surprised" by the proposal, admitting she had no idea it was going to happen. "I'm just sweating cause I was like, 'I hope the song comes on, I hope the song comes on,'" Taylor said before Rhett went into "Sweetheart." "Next thing I know, it comes on. I'm on one knee, and everybody's screaming and cheering us on. She said yes, thankfully."