Kate Middleton Caught Wearing A Hairnet to Royal Events
Kate Middleton is known for her perfect hair. Between her silky, loose waves and her complexly gorgeous updos, The Duchess of Cambridge can work pretty much any style. It's impressive how impeccable she can keep those complicated updos looking during busy royal events. Kate actually has a secret method for keeping her hair in place for long periods of time. It turns out that Kate has been wearing hairnets to royal events and TBH it makes so much sense.
The Royals had a busy start to the week. They attended Prince Louis' christening on Monday, quickly followed by the 100th birthday celebrations of the Royal Air Force. Kate looked gorgeous at both events, of course, keeping her hair up for both the christening and the flypast on the Buckingham Palace balcony. If you take a closer look at pictures from the events, you'll notice that Kate's hair is done the same for both.
Here's Kate on Tuesday for Royal Air Force celebrations:
And here she is the day prior with the exact same hairstyle: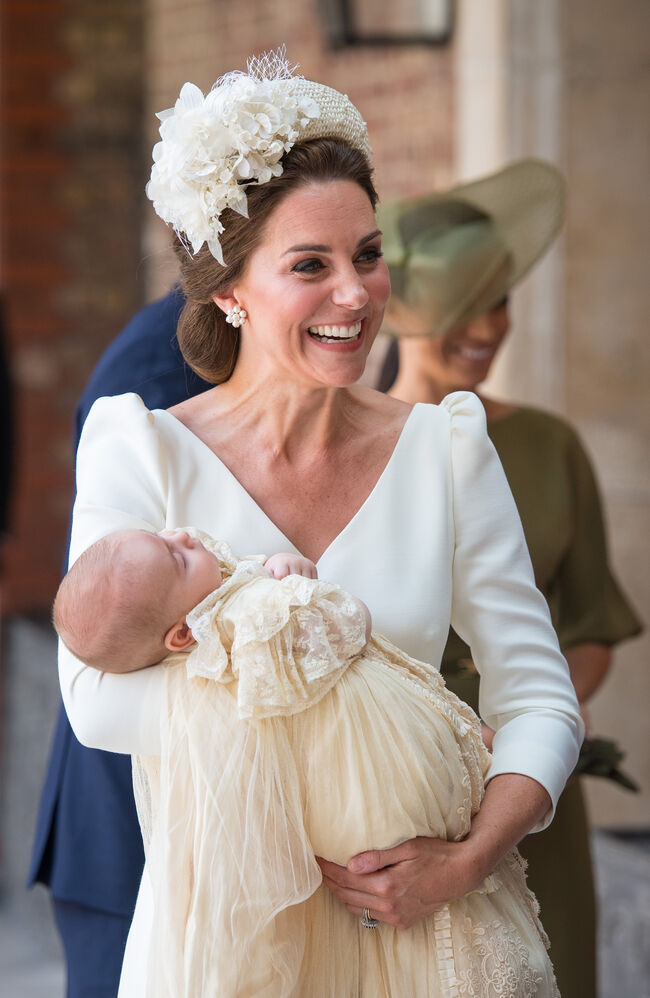 Some royal watchers on the internet noticed that if you zoom in super close to Kate's chignon, you can make out a hairnet securing her hair in place. Hairnets actually have more than one purpose - they're not just for keeping the mean lunch lady's hair out of your food, okay?! Hairnets are actually a super helpful tool for people like Kate Middleton, who often need to have their hair impeccably styled and have it last for a few days. A hairnet comes in handy when you're a busy royal and new mom like Kate, because it allows you to keep an updo in place overnight when she has back-to-back official duties to attend to.
Harper's Bazaar also points out that this isn't the first time the Duchess of Cambridge has worn a hairnet to an official royal event. According to the magazine, she was spotted back in October 2016 wearing a barely detectable net over a neat chignon. Just like she did this week.
Hairnets are available Amazon for those who want to take a page out of Kate Middleton's style book. Or you can just ask your local lunch lady if you can borrow an extra.